Cheapys.com Sells Cheap Nintendo Games, as well as Portable CD Players, Portable AM/FM Radios, Clock Radios, MP3 Players, and So Much More!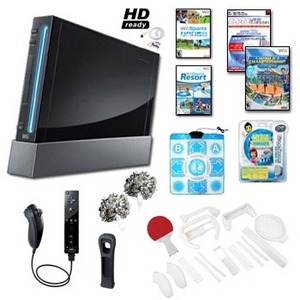 Nintendo Wii Black Holiday Mega Bundle w/ Remote Plus, Games, Dance Pad & More
Cheapys.com Price - $285.99, Plus Shipping and Handling.
The sleek Wii console, no larger than a stack of several DVD cases, includes a Nintendo Wii game console (black), Wii Remote Plus controller (black), Nunchuk controller (black), the original Wii Sports, Wii Sports Resort, wired sensor bar, power cord, standard composite cable, console stand, console manual.
Click Here For More Information ~ On All Our Nintendo Games.
Customer Comments
We want to hear from you. Please tell us how we are doing? Your comments, stories, or complaints are welcome at Cheapys.com. We want to improve your shopping experience, and the most important way we can improving what we do is by listening to you.
If you want a response, or follow-up, let us know. Thank you for helping us to be the best we can be for you.
mailto:cheapys@ymail.com